1 May, 2016 - BLOGS: One mans word sealed buy a ceremonial dance (with the village chief) and a tribal handshake – what a...
2 May, 2016 - CONTESTS: With only a day left until the 2016 Komune Bali Pro Presented by The Mad Hueys kicks off at the...
3 May, 2016 - FILMS: The 2015-2016 El Nino winter was one we'll be talking about for years to come. And no one took...
2 May, 2016 - BOOKS: Shotguns to their heads in Mexico, swimming in the Amazon-River in swarms of Piranhas, surfsessions...
1 May, 2016 - CULTURE: The environmental activist Chris Hines, the artist Wolfgang Bloch, the journalist Júlio Adler, the...
2 May, 2016 - SHARKS: The South African Government has successfully tested a shark repellent cable near Cape Town. According...
2 May, 2016 - LONGBOARD: The opening event of the HIF Longboard Series scheduled for Ocean Grove was met with extreme...
4 May, 2016 - SUP: Salt Life, one of today's leading lifestyle brands, is the presenting sponsor for the historic Havana...
28 April, 2016 - INDUSTRY: Building The Revolution turns two years old May 3rd, 2016. In celebration of our birthday we have...
Featured Video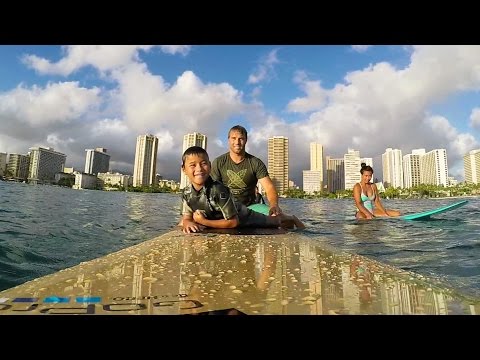 Growing up in Hawaii, Crystal Walsh has developed a love for surfing. Join her and her husband, Anthony Walsh, as they take their son to the beach and share their passion for the sport with him.